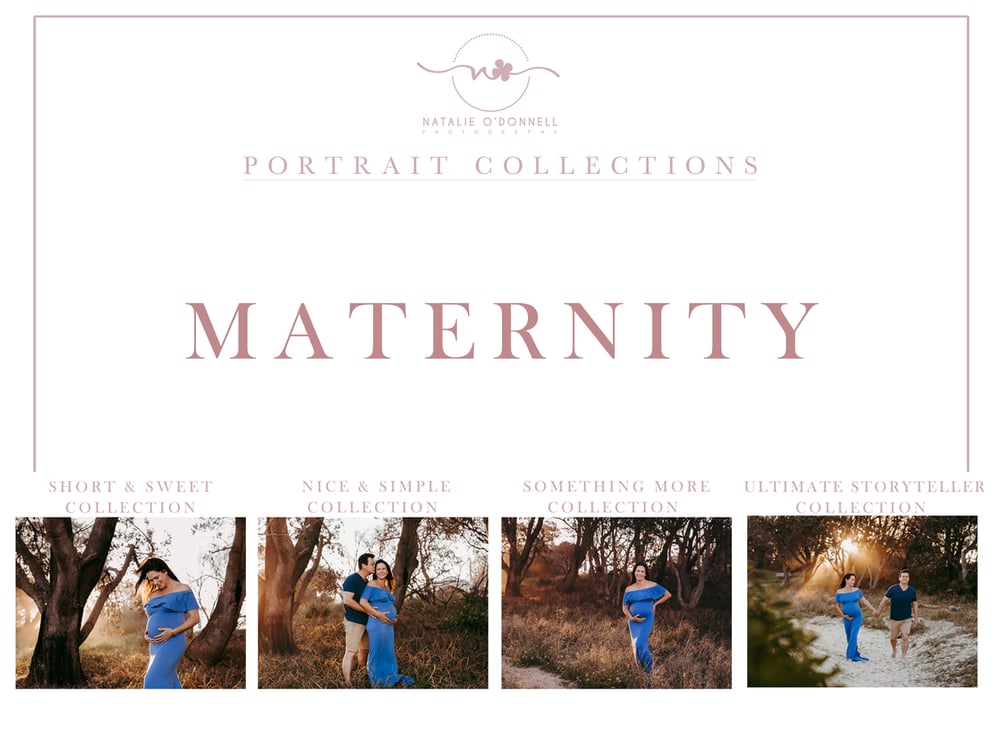 Session fee for a MATERNITY session is $100
Session booking fee includes the following:
- My time at your session (up to 1 hour) , talent, styling and photographing of your photo session.
- A Facebook preview within 24 hours of your shoot.
- Collating, Editing and retouching your digital gallery
Session fee is due at the time of booking to secure your date and session.
This fee is non-refundable.
*Please note; this fee does not include prints, products or digital images. This fee covers my time, styling, talent and creativity.
FAMILY Collection options:
495 | Short & Sweet | 6 digital images
695 | Nice & Simple | 10 digital images
1295| Something more | 20 digital images + 5x 8"x10" mounted fine art prints
2695| Ultimate Story teller | 40 digital images + 10"x10" Deluxe lustre layflat album
**WHEN PURCHASING YOUR SESSION IN FULL, YOU WILL NEED TO ADD BOTH YOUR SESSION FEE ($100) & COLLECTION OF CHOICE TO YOUR CART BEFORE CHECKING OUT**
*PLEASE NOTE: As of August 2020 all sales will have GST added at checkout
Payment types?
*Credit card facilities in the studio, alternatively cash, direct bank deposit & PAYPAL are accepted .. & payment plans can also be arranged upon request.
When & Where?
Sessions can be held on a weekday afternoon in daylight savings & weekends upon request (weekends book out well in advance so be sure to book ahead of time)
Family Photo shoots are generally captured at a variety of outdoor locations eg. local beaches or park lands or rain forest reserve type areas. Natalie is also happy to travel* to your home should you like to request that (*travel fees apply) so feel free to ask.
If additional time is needed just have a chat with Natalie to discuss what is required
Additional hours are $100 per hour
My travel fees are below
For session locations out of the suburb Port Macquarie 2444 there is a fee for travel
$25 for up to 25klm
$50 for between 25 - 50 klm
$100 for between 50 - 100 klm
$150 for more than 100 klm
$350 for more than 200 klm
$600 for more than 350 klm
i.e If your session location is 80 klms away from Port Macquarie the total travel fee payable is $100